Alex Snider knows that being a software engineer can be, quite simply, "really messy and hard." We've all been there. At the same time, it's an endlessly dynamic occupation that challenges devs to solve new problems every day.
He was working in social media analytics when he decided to teach himself programming. The mental rigor and science-meets-art duality of coding were attractive to someone that considers himself a "life-long learner."
Like many developers, Alex has experienced his fair share of what some might call competitive suffering, with team members boasting, "I stayed up all night" to prove dedication to the work. He doesn't find that impressive. "I find it toxic. Burnout is common—I burned out at my last job. I want to help people avoid that mental suffering."
That past helped pique his interest in Uplevel. "Metrics on Deep Work and burnout weren't on my radar," he says, but he knew that clear measurements of focus and overtime could support devs in improving work culture. "If there's a problem, being able to provide anything other than anecdotal evidence is super valuable. It makes a big difference in helping orgs address problems."
HIGHS AND LOWS
There's a common thread that links most developers: a deep appreciation for uninterrupted focus time. Building Uplevel has increased his focus on Deep Work, a metric we value as a cornerstone of engineering effectiveness. He's fairly confident in a correlation between his Deep Work time and overall code quality.
What does a great day look like? "Being able to go heads down." That means minimal meetings and collaboration, which can be draining. Solitary work time supports a more sustainable productivity.
"When I'm focused on something, the world is gone. I'm in the zone." The payoff, he says, is worth it. "What's most rewarding is working on a challenging problem and ending the day feeling proud of the solution."
What does a frustrating day look like? "When I'm working on my own, it's starting a project with bad parameters." That failure to be set up for success gets in the way of satisfying productivity. "Externally, it's draining if you don't get along with your team. Engineering is a team sport. You need to rely on and collaborate with other people." Trust and humility are essential, whereas ego can creep in to negative effect.
WORKING AT UPLEVEL
Alex joined Uplevel in 2019. His past three years have focused on front-end work like product redesigns, charts, and data input architecture.
Some of the features he finds most valuable are in Sprint Retro Insights, like Git and Jira work, and Percentage Done. Another key metric is PR Cycle Time, which, as a developer and individual contributor, feels actionable: "I'm not great at it, and it's in my control to change." This is a contrast to a metric like Context Switching: "It's not up to me. That's org-level. I can bring it up at Sprint Retros, though." People Metrics represent such complex concepts that are difficult to convey in the dashboard, he thinks, but they're helpful to address big problems in organizations.
What recent Uplevel feature excites him? "Team Deep Dive! It's a good, chunky feature set. I felt confident that I could make it—and that it was right to make."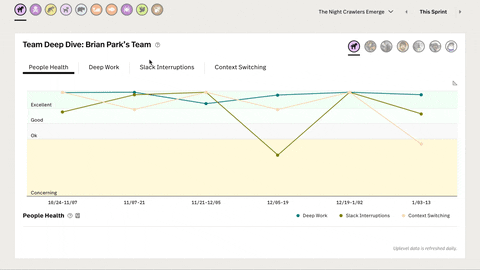 This addition expanded visibility into team-wide metrics from managers to all of their direct reports. "I like how we're opening the product in terms of transparency. There's less separation of developer and manager."

A project like Team Deep Dive had all the challenging and creative elements that Alex likes about being a dev. "We simplified concepts and made the data easier to digest. We needed answers about how to represent data, which required stepping outside of it to really look at it."

THE NEXT CHAPTER
Continuous learnings shape an exciting future for Uplevel. Alex and his team are discovering new ways to conceptualize and illustrate the everyday realities of dev life. "As time goes on, more interesting things are coming to fruition. This will only continue to get more valuable over time."