Whether you have an influx of new employees after a funding round or you're bringing on new team members to keep up with customer demand, it's important to have a strong onboarding plan in place to get everyone up to speed. Onboarding can be tricky, especially now that many companies are adapting to a remote-friendly culture.
Uplevel can help. By incorporating data into the onboarding process, you can help new team members feel confident and excited to take on new challenges.
Help them get context
When it comes to onboarding, it's important to give new folks a high level view of what's been happening on the team. Project Explorer is the perfect place to start. Here, they'll be able to take a look back in time at work that's been completed during previous sprints and work still in progress. This view not only shows which Jia tickets were completed, but also their associated PRs and all contributors so they can learn who on the team has expertise in a specific code repo or project. If needed, it's easy to jump over to Jira or the code repo to dig in further. This holistic view is helpful, especially if new developers will be taking over ongoing epics. It's also a great prerequisite to pair programming.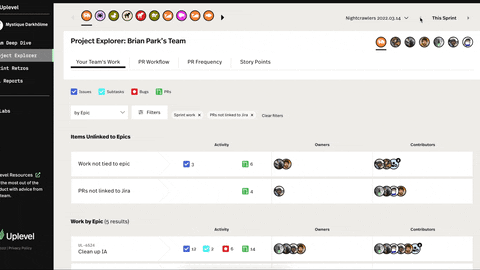 Check on their well-being
Starting a new job can be tough, especially as a developer. There are so many new tools and processes to learn, as well as an entirely new code base. Things can get overwhelming fast! Managers can use Uplevel to check in on the well-being of their new team members and make sure they're working sustainably and on the right projects. Start by looking at the Team Tiles. Here, it's easy to see a quick overview of the People Health metrics for each team member and make sure they're not at risk for burnout. You can also check their work allocation and ensure they're not spread too thin across too many epics. If you notice anything that looks off, proactively check in during a 1:1.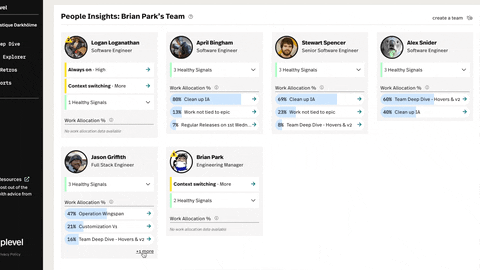 Spark Conversations
While data can be a helpful tool, nothing can replace a face-to-face meeting. It's important to continue to have regular conversations with new team members to understand how they're adjusting. Schedule regular 1:1s to provide an opportunity to get questions answered and check in on how new team members are feeling. You can use the Uplevel 1:1 Report as a conversation starter to talk about career goals to understand how you can set up new employees for success. Don't underestimate the power of encouraging words — the first few months in a new role can be a very uncertain time and a simple confirmation of a job well done can make all the difference.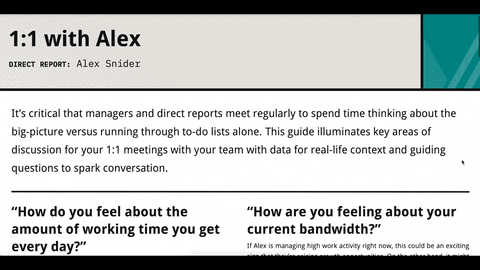 Onboarding doesn't have to be stressful. Your Uplevel dashboard can give you tools to help support your new team members and make sure they feel confident heading into their first few months on the job.
---

Additional resources